Let's walk together to realize your ambitions
We change our name, but not our commitments
Choosing Pan African is choosing solidity
Let's walk together to realize your ambitions
We change our name, but not our commitments
Choosing Pan African is choosing solidity
Pan-African Microfinance Burkina Faso (PMBF-SA) ex Société de Financement de la Petite Entreprise (SOFIPE) is a public limited company with Board of Directors with a capital of one billion eight hundred and fifty million (1,850,000,000) FCFA created in 2008 by the Agricultural and Commercial Bank of Burkina (BACB) with the support of two social investors Africap and Oikocredit for the sustainability and empowerment of the Linkage Program, managed since 1993 by the BACB.
It started its deposit activities in August 2010 and its credit activities in February 2011.
Following the merger of BACB by ECOBANK BURKINA, PMBF-SA became the Microfinance subsidiary of the ECOBANK Group in Burkina Faso.
In order to give a unique identity to all its microfinance subsidiaries reflecting that of Ecobank, the ETI group has decided to give the same name to all of its microfinance structures in Africa.
Thus since January 22, 2018 following decree n2018-029 / MINEFID / SG / DGTCP / DSC-SFD, SOFIPE changed its corporate name and now operates under the name of Pan-African Microfinance Burkina Faso in abbreviation PMBF- HER.
The Mission of the PMBF-SA
Improve the living conditions of low-income populations, especially micro and small entrepreneurs in rural, peri-urban and urban areas of Burkina Faso by providing them with efficient and sustainable financial and non-financial products and services suited to their needs.
The Vision of the PMBF-SA
Support the dynamics of financial inclusion in Burkina Faso by contributing to the emergence and consolidation of a microfinance industry accessible to the greatest number
Money Transfer
Pan-African offers its existing and potential customers the possibility of receiving or sending money via Western Union, MoneyGram, Rapid Transfer and Ria Money Transfer.
Micro Insurance
Do you need a loan or do you want to make a deposit?
Then you need to contact Pan-African Savings and Loans Company
Limited.
Featured Story 1
Your content goes here. Edit or delete this text online or in the module content settings. You can also style every aspect of this content in the module design settings and even apply CSS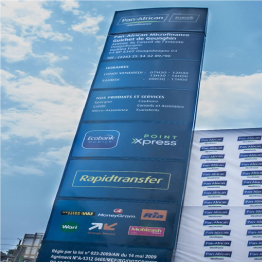 Featured Story 2
Your content goes here. Edit or delete this text online or in the module content settings. You can also style every aspect of this content in the module design settings and even apply CSS