Pan-African Microfinance Burkina Faso (PMBF-SA) is a Microfinance company created in 2008 in the legal form of a public limited company with Board of Directors and governed by law n ° 023-2009 / AN of May 14, 2009 regulating decentralized financial systems in Burkina Faso. It is the emerging form of microfinance institutions in the WAEMU zone. It obtained its approval as a microfinance institution authorized to carry out savings and credit activities under number A-13120460 of September 12, 2012.
It is the microfinance subsidiary of the Ecobank group in Burkina Faso and Ecobank Burkina is the main shareholder. At the heart of the project to create the Ecobank group, there is an unshakable desire to build a modern pan-African bank and contribute to the economic development and financial integration of the continent. It quickly became clear that the fight for financial inclusion could not be limited to the banking sector alone, given the rate of banking on the continent, which barely peaks at 10%. It was therefore necessary to develop a specific offer for small businesses and people with low incomes who, while not having bank accounts, are affected by more complex problems due to their high exposure to poverty, their lack of education, etc. .
Like the PMBF-SA, the Ecobank group has set up 4 other microfinance subsidiaries in Ghana, Sierra Leone, Cameroon and Nigeria in accordance with its vision of "building a world-class pan-African microfinance industry and contribute to the financial empowerment of under-banked and unbanked populations in Africa "
Pan African Microfinance Burkina Faso's mission is to: "Improve the living conditions of low-income populations, especially micro and small entrepreneurs in rural, peri-urban and urban areas of Burkina Faso by providing them with efficient and sustainable products and financial and non-financial services tailored to their needs ".
To date, the PMBF operates on a distribution network comprising fourteen points of sale in eleven cities in Burkina and offers its friendly customers several savings products, credit, mobile money, money transfer, microinsurance services, continuously adapted to their evolving needs. These, complete training in financial education for proper management of the funding granted.
The Mission of the PMBF-SA
Improve the living conditions of low-income populations, especially micro and small entrepreneurs in rural, peri-urban and urban areas of Burkina Faso by providing them with efficient and sustainable financial and non-financial products and services suited to their needs.
The Vision of the PMBF-SA
Support the dynamics of financial inclusion in Burkina Faso by contributing to the emergence and consolidation of a microfinance industry accessible to the greatest number
The deployment of the savings and credit activities of the PMBF-SA is supported by four (4) values ​​referring to ethical (moral) and professional standards. These four (04) values ​​are as follows: integrity, commitment, professionalism and innovation.
Integrity: this value refers to the concepts of honesty, righteousness and loyalty. It is a moral value which requires that all the individual acts of the PMBF-SA staff as well as the collective and institutional acts of the company are free from fraud, deception or falsehood.
Commitment: an engagement means a deliberate and resolute choice for the achievement of an objective or for the defense of a cause. It is a value that contains the concept of personal sacrifice and subordination of personal interests to those of the Institution, the community and the clientele.
Professionalism: the image that PMBF-SA must send to its environment is that of a specialist in the microfinance sector. This assessment must come from or be confirmed by authorized structures (peer opinion, rating or rating agencies, technical partners, customers, regulatory authorities, results of specific studies). To this end, the actions:
Innovation: in an environment of competition and rapid evolution, to be competitive PMBF-SA must register its interventions in a logic of continuous change (regular introduction of new products and services, evolution of methods and practices,…). To this end, it will place particular emphasis on the permanent search for innovations in the sector. This research should be the responsibility of all stakeholders (employees, shareholders, partners with related interests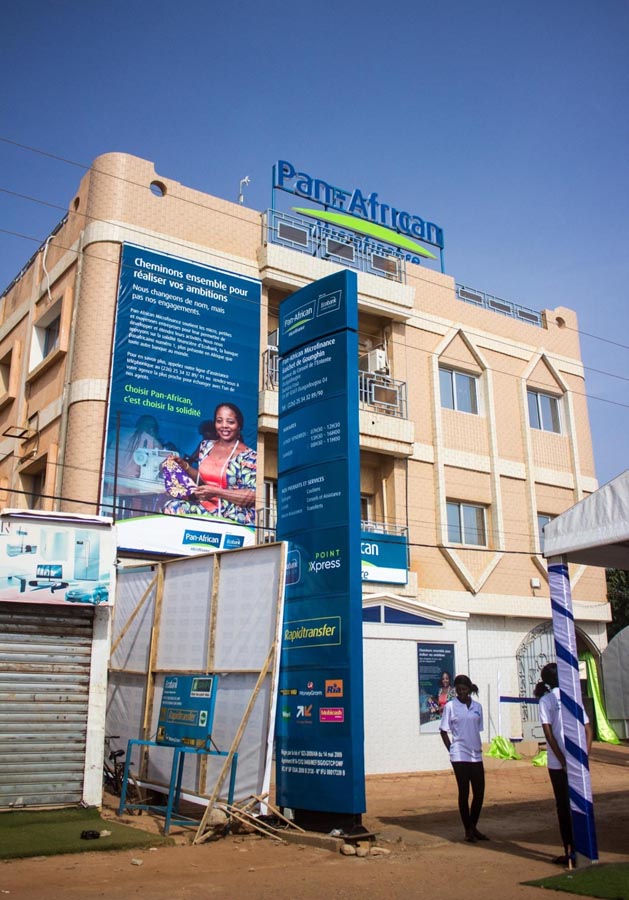 Our target clientele is currently composed of:
– individuals (woman or man, young or adult),
– companies, formal groups (associations, groupings),
– informal groups (solidarity groups, savings groups),
– employees in the public and private sectors.
Madame ZONGO Micheline, Mother of two children, Manager of the Cornelia secrets restaurant. It started in 2005 in Koudougou and opened in Ouagadougou in 2011 and benefited from a working capital loan of 2,000,000 FCFA to the PMBF (ex SOFIPE) which helped it a lot especially in the catering service. After a year, she was able to repay the loan. She then obtained a loan of 4,000,000 FCFA with which she was able to acquire equipment for her restaurant. Today she has 26 agents under her management and manages several annexes of her restaurant. She has already recommended PMBF-SA to her relatives and one of them has opened a credit file.
WANDAOGO Kassoum, Head of Hairdressing Salon Kass coiffure has been practicing and living from his hairdressing profession for almost 20 years. He opened his living room in 2001. He claims that at the beginning it was not simple, but with the meeting of the PMBF-SA (ex SOFIPE) in 2011. He obtained a first loan of 400,000 FCFA, then a second of 750,000 FCFA and a third of 950,000 FCFA. Thanks to these credits, he was able to give chandelier to his living room and equip it suitably.